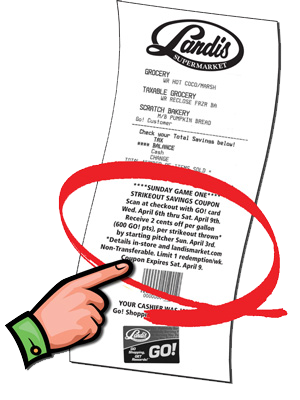 Use your Landis GO! card every time you shop from Sunday through Saturday. When your store purchase totals reach $75 , you will receive a Strikeout Savings coupon offer printed at the bottom of your receipt, valid for 2¢ OFF PER GALLON OF GAS (600 GO! points) FOR EACH STRIKEOUT thrown by Philadelphia red and white team's STARTING PITCHER in that weekend's upcoming Sunday game. Save your coupon!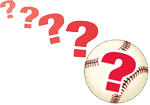 Sunday is Strikeout Game Day!
HOW MANY STRIKEOUTS WILL THE STARTING PITCHER THROW?
Check our website's home page or in-store beginning the day after the game to find out the Official Sunday Strikeout Total and how much you can SAVE ON GAS!
GO! Email Club members will receive an email with this information.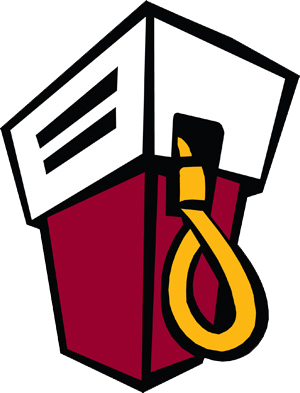 SCAN your Landis GO! card and Strikeout Savings coupon at checkout Wednesday through Saturday following the game. Receive 2¢ OFF per gallon of gas (600 GO! points), per strikeout. GO! points will be added to your account and are INSTANTLY redeemable for GAS SAVINGS!
Examples of how you can save on gas:
1 strikeout = 2¢ OFF per gallon (600 GO! points)...
5 strikeouts = 10¢ OFF per gallon (3000 GO! points)...
10 strikeouts = 20¢ OFF per gallon! (6000 GO! points)
Shop at Landis to earn your NEXT Strikeout Savings coupon!